Craggin Classic: Crimpfest – Smith Rock Sept 14-16th!
Join the American Alpine Club at our first Craggin' Classic at Smith Rock, co-hosted with our friends at Redpoint Climbers Supply. We'll be premiering the 2012 Reel Rock Film and enjoying meals sponsored by SRCFC and the Mazamas. Join us for the registration happy hour sponsored by Boreal on Friday evening.

Logan Carr and Boreal will give climbers a tour of some of the most historically significant climbs in the park on Saturday. We'll publish a list and schedule of those climbs for you to watch. Festiva

l participants can give Boreal's new shoes and Logan will be leaving the rope up for you to give it a shot. You've seen the beta, so it should be easy…right?

CAMP USA equipment is also presenting the Ten Hour Crushfest The 2013 Smith Rock Crimpfest Comp. Compete with your partner in one of six categories (elite and rec men's, women's and co-ed) for prizes up to $700 in cash/$200 in gear! Sign up that weekend, but start looking for your partner now.

Schedule:
————————–————————––
Friday:
5 – 9 PM – Happy hour / Registration at The Depot

————————–————————––
Saturday:
7 AM – Breakfast sponsored by Solid Rock Climbers for Christ

~Logan Carr/Boreal Tour of the Park

8AM – First Ascent Climbing Guides' Clinics:
~ Rob on Crack: Trad Techniques and Training with The Piz
~ Paige Claassen: Sport Climbing for Women
~ Glenn Griscom: Aid Climbing technique and Self-Rescue

5-10PM: Dinner / Raffle and Auction / Reel Rock / Party! – Saturday Night at the Depot

————————–————————––
Sunday:
7 AM: Breakfast / Stewardship Day – Sunday morning

5AM – 3PM: CAMP USA Crushfest!

3:30 PM: Awards Ceremony
Buy festival passes here: http://www.brownpapertickets.com/event/267097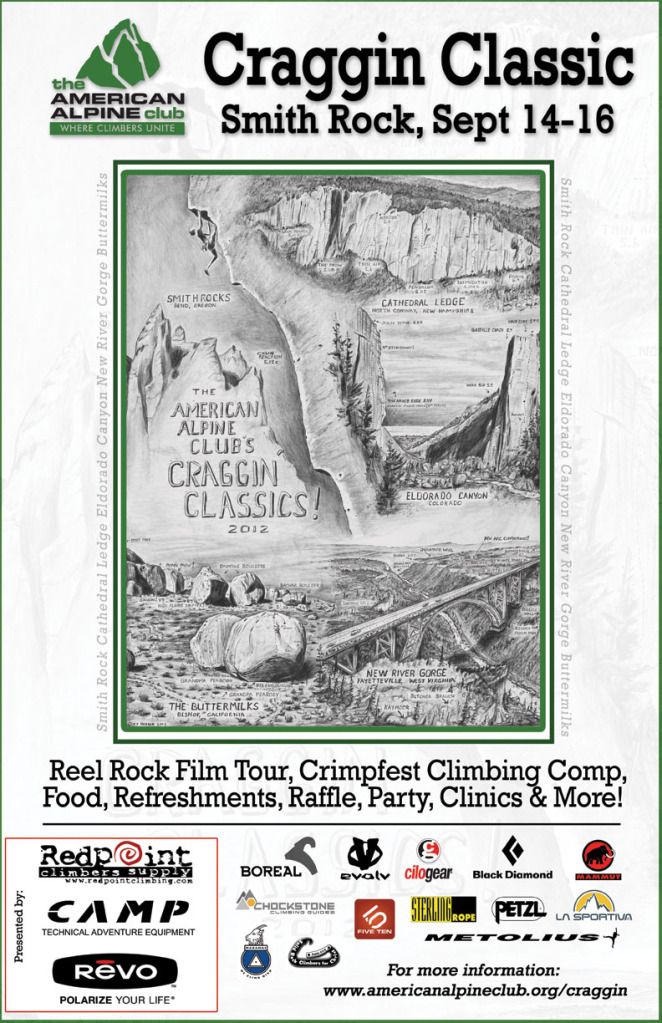 Comments are closed.