Summer Book Club Selections
The latest dispatch from Jim Moss about the AAC's Golden, Colorado Book Club.   Stay tuned for more information about book clubs in your local section and on Facebook,  and in the meantime, join the discussion on our Google Group!
May 11: The Nanga Parbat Pilgrimage, Herman Buhl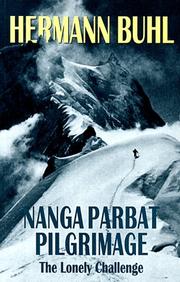 To this day, Hermann Buhl's successful 1953 solo climb of 26,620-foot Nanga Parbat remains one of the single greatest achievements in mountaineering history. On this peak, which over the years had claimed 31 lives, Buhl achieved something far beyond the accepted limits of human possibility and reached the zenith of his career. Nanga Parbat Pilgrimage shares Buhl's life, from the physical frailty of his childhood through the many years he spent building his almost superhuman strength to his great triumph in the Himalayas. (from Goodreads)
June 8:  Escape from Lucania, David Roberts
An Alaskan Expedition that starts in survival mode.  A quick summer read too.
This short but sweet look at the ascent two Harvard buddies made of Mt.
Lucania in the Yukon Valley in 1937 – at the time, the highest unclimbed North
American peak at 17,150 feet – is a welcome respite from the high-tech,
thrill-a-minute climbing tales that have descended like an avalanche.  With
their friendship cemented in the elite ranks of the Harvard Mountaineering
Club, the brash Brad Washburn and the more reserved Bob Bates decide to
explore their "passion" for Lucania, but are immediately faced with hardship
when their pilot, who lands them at an unexpectedly slushy base of the
mountain, is unable to return to pick them up.  Roberts's narrative shows how
the resourceful duo decided to climb the mountain and then head more than
100 miles on foot to the nearest town, dressed in clothing that "essentially
consisted of layers of wool and cotton."  In this day of high-tech expedition
gear, it's good to know that Washburn's headgear was a Royal Canadian
Mounted Police hat.  Roberts (True Summit), a longtime chronicler of
adventure and exploration, deftly details a time when "the American public
remained almost completely ignorant of mountaineering."  Roberts's book
reveals the true story behind one of the earliest and most remarkable
expeditions of the 20th century.
July 13:  One Man's Mountains: Essays and Verses, Tom Patey
July's book  will follow our theme of climbing in 1953.  However
this book will have a different story of team dynamics.  We are going to be
reading One Man's Mountain by Tom Patey.
This autobiography offers a glimpse into the mind of Tom Patey, a man who
contributed greatly to modern climbing.  He was killed in May 1970, abseiling
from a sea stack off the north coast of Scotland.  He was 38.  People outside
the climbing world knew of him as the only man who launched himself into
space during the televised climb of the Old Man of Hoy.  Inside the climbing
fraternity everyone knew of him.  It was when studying medicine at Aberdeen
University that Tom first showed his talent as an extraordinary climber and
started his long series of epic first ascents.  He also took part in the
four-man 1956 British expedition to climb the 28,800-foot Mustagh Tower, a
mountain that many people regarded as unclimbable; they conquered it – Tom,
John Hartog, Ian McNaught-Davies and the legendary Manchester plumber Joe
Brown.
August 10 (subject to change):  Challenge of Rainier, Dee Molenaar
August is probably going to be Dee Molenaar's The Challenge of Rainier.  This
will be an awesome night if things work out.  Dee was on the 1953 K2
expedition, is an artist who works have appeared in dozens of mountaineering
books and has agreed to come to the book club meeting.  Date is TBD based on
Dee's Schedule.  There is also the possibility that another member of the 53
K2 team may be at the meeting, stay tuned.