Book Club Fight Club: The Mountains of The Mind, Sept 8th, 6-8pm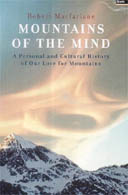 Adam M and I were thinking about how to bring even more people to book club.  We thought Book Club Fight Club might do it. What do you think?  Here are the rules, stolen from the movie:
1st RULE: You do not talk about Book Club FIGHT CLUB.
2nd RULE: You DO NOT talk about Book Club FIGHT CLUB. (Okay, actually – please talk about book club!)

3rd RULE: If someone says "stop" or goes limp, taps out, the discussion is over.
4th RULE: Only two hours to a book fight.
5th RULE: One book fight at a time.
6th RULE: No shirts, no shoes (not really).
7th RULE: Discussions will go on as long as they have to.
8th RULE: If this is your first night at FIGHT CLUB, you HAVE to talk about the BOOK.
That said,  September's book is The Mountains of The Mind, Robert MacFarlane, 2003.  6-8pm, Tuesday the 8th. Hosted by Jim Moss. Stop by the library to find out the location in the AMC.  Rsvp to [email protected]
From the NY Times book review: "The modern climber traipsing on the edge may think he's a free spirit, but according to the English journalist Robert Macfarlane, he's a slave to advertising. Purple mountain majesties? They're only there because the viewing audience is programmed to see them. "Mountains of the Mind" goes back three centuries, showing how a few brainy opinion makers created the outdoor image."